Your stay at the Tsjerk Hiddes




Port of departure: Harlingen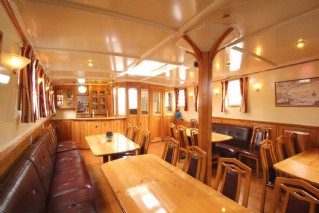 The Tsjerk Hiddes is excellently suited for a family group. But especially the fine parlour and attractive bar make the ship well-suited for business customers: an active company trip of one or several days, a training session, a product presentation or a meeting/brainstorm session in a neutral and inspiring environment – it is all possible on board of the Tsjerk Hiddes.




Layout

The Tsjerk Hiddes has a total of 12 cabins. 6 of these are double cabins and 6 three-person cabins. The three-person cabins have a doubter of 1.20 metres wide and a single bed above it. The double cabins are provided with two single beds (bunk beds).
All cabins have their own shower and toilet.

The kitchen (galley) is fully equipped with a gas stove and a large gas oven, a dishwasher and a lot of cooling and storage space for foodstuffs. Here, you can easily prepare the meals for the entire group.

The well-lit parlour offers sufficient space for a group of 23 to 30 persons. There are 4 larger tables, 2 of which can be moved, so a larger space is created, e.g. for dancing during a wedding. In the parlour there is also a bar with beer tap.

Facilities on the Tsjerk Hiddes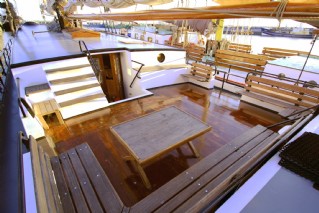 Sailing on the Tsjerk Hiddes
When the ropes are untied on board the Tsjerk Hiddes, the adventure starts immediately. Together, the sails are hoisted and the skipper makes sure the right course is set. Guests without sailing experience will also be real seamen in no time. On board, no-one will get bored, for when the sails are set everyone can enjoy the view, or get a drink at the bar.

From the home port of Harlingen you are immediately in the Wadden Sea. In general, the islands of Texel, Vlieland or Terschelling are easily reached during a weekend trip. You will certainly have the ultimate holiday feeling when you end the Saturday on a terrace overlooking the sea!
History
The Tsjerk Hiddes was built in 1881 on the yard of Jonker bros. in Kinderdijk. Originally, it was a 2-mast rigged cargo vessel and was used for the transport of goods on the Dutch rivers.
Since 1994 the Tsjerk Hiddes has sailed as a sailing passenger ship on the Wadden Sea and the IJsselmeer.